Page 2 of 2 •
1, 2
sorry for the late update, went out of town to celebrate the 4th and stuff.
anyway, for anyone that wasn't there, the build and bbq went great!!!!! Thanks to everyone that showed up and special thanks to Preston, he was the first one there and was there wrenching on the car with me the whole time. I owe you one man!!!
Don and Kory handled the grill, sort of (they even made blackend burgers..... didnt know you could do that with no spices, lol), I still have enough beer to last me a month or two, and i think everyone had a good time. Don even almost died at the end of the night, the true sign of a good party.
At the end of the day we left the car fully assembled and running but the throw out bearing didn't seat properly so there was no test drive. also, there where a couple oil and coolant leaks that where quickly found and fixed, and one vacuum leak....
I finally got a chance to work on it a bit yesterday night and got the vacuum leak fixed and, with a lil elbow grease, got the bearing seated properly. Went to test it......... and my battery was dead

. Borrowed a buddy's jumpers (i really need to buy a set, never give you stuff to your lil sister you will never get it back) and in my excitement i forgot to re-install the TMIC

 , it sounded awesome but really wrong. Fixed that and now she purrs like a Lion!!!! Tomorrow after work im gonna clean her up, tweek the tune, then break her in nice and rough just like she likes it. I'll be driving her to work on friday.
oh yeah and i forgot to say

SHE LIVES!!!!!!!!!!!!!!!!!!!!!!!!!!!!!!!!!!!!!

_________________
Horsepower is no substitute for brains, F***!!!!!
Forum Outlaw




Posts

: 1478


Reputation

: 14


Join date

: 2012-04-12


Age

: 103


Location

: Savannah, GA



Awesome! It's a great feeling being able to say that
_________________
Captain Slow




Posts

: 1237


Reputation

: 101


Join date

: 2012-04-03


Age

: 37


Location

: El Paso TX / Klamath Falls OR



it really is, now if i could just get romraider working right so i can data log and make sure everything is working as it should. The car idles real good and oil pressure is good from my gauge but im not comfortable taking her out for the actual break in until i can see that AFR correction is good and there is no sign of knock...... thats the one thing that sucks about romraider is that its a bitch to install on the computer and since this is the first time im using this computer to tune i have to go through the 80 steps to properly install and update it. Free doesnt mean easy...
I had no issues installing romraider. What I had to do was install ecuflash first and then romraider. Truth be told, I used ecuflash more than romraider anyway on my LGT.

_________________
Horsepower is no substitute for brains, F***!!!!!
Forum Outlaw




Posts

: 1478


Reputation

: 14


Join date

: 2012-04-12


Age

: 103


Location

: Savannah, GA



Really, installing it wasn't the issue. It wouldn't recognize the tactrix cable even though I completely uninstalled both programs and reinstalled ecuflash first. When that happens you gotta do the long install during which you reboot the computer like 10 times, that's why it takes so long.
ok so she had her maiden voyage today. Everything seems to be working properly except my oil pressure gauge. Did 4 Hard 4th gear pulls and she ran like a champ.
Only problem is it seems like I'm still leaking a lil oil from somewhere around the turbo. I can see exactly where from yet so i still won"t be driving her full time yet. I checked all the vital parameters in romraider and its all good, fuel correction at idle is high but is totally fixable.
heres a couple of screen shots of the logs i took.
minimal knock, easily fixed...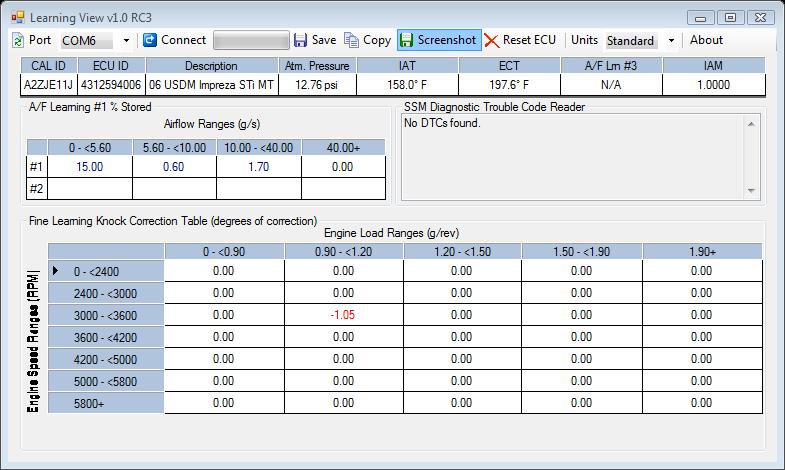 weird but easily corrected maf log....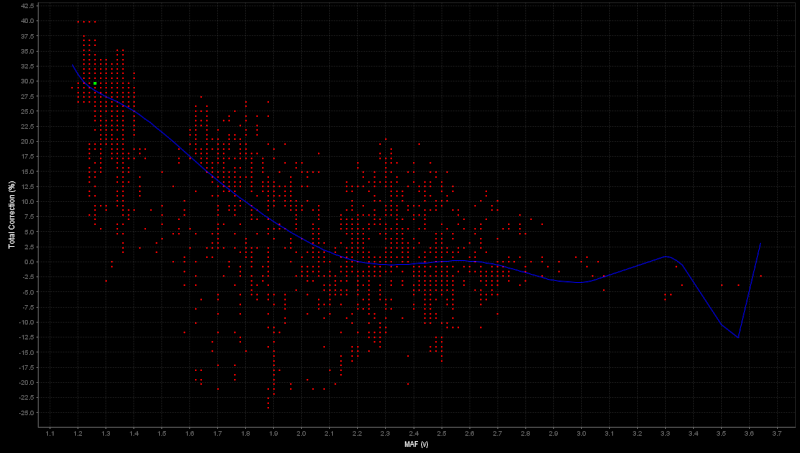 Page 2 of 2 •
1, 2
---
Permissions in this forum:
You
cannot
reply to topics in this forum